Horoscopes
Meetings and recognition await three zodiac signs: Horoscope for 21-22 October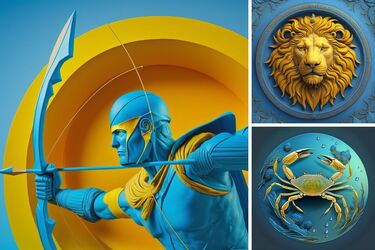 UAportal has prepared a horoscope for Sagittarians, Lions and Cancers for the weekend of October 21-22. Find out what the stars have prepared for these zodiac signs.
Sagittarius
Sagittarians may face a conflict between the desire for adventure and the need for stability. Balancing these opposing forces can be challenging, but trust in the universe is the key. The importance of balance in your life should be embraced, which will allow you to explore new horizons while maintaining a sense of security.
Sagittarians may have an opportunity to be recognized for their hard work. Dedication and effort are likely to be recognized by those around you, leading to praise from superiors, applause from colleagues or even financial rewards. It is worth not to lose concentration and continue to give your best, because it can pave the way to positive results and career growth.
Leo
Leos will have a period full of opportunities for creativity and self-expression. Your natural charm and charisma will appeal to those who are around you, providing a platform to promote ideas or develop meaningful connections. You are advised to use your magnetism to inspire and motivate people around you, allowing your creative talents to shine.
Read also: the "Age of Villains" will bring great success to three zodiac signs: their lives will be turned upside down
Leos should remain open to unexpected encounters, as the universe may present unexpected moments. These encounters may introduce interesting people who have offered new perspectives and opportunities. Although these interactions may seem random, they may contain hidden potential for personal and professional growth.
Cancer
The weekend favors their caring and compassionate nature for Cancers. An innate sympathy will attract those who are in need of support. This presents an opportunity to positively impact someone's life by providing comfort and solace. It's worth tuning into your heightened intuition, which will allow you to understand others on a deeper level and offer valuable assistance.
Cancers may encounter an opportunity to expand their knowledge and skills. You need to seize the chance to learn something new, whether it's a hobby, a subject of interest, or professional development. This knowledge can bring personal and professional benefits, opening the door to exciting opportunities.
As UAportal previously reported, earlier astrologers named the two most evil signs of the zodiac, which are capable of terrible revenge.
Want to receive the most relevant news about the war and events in Ukraine - subscribe to our Telegram channel!