Horoscopes
A surge of creativity and desire for change awaits three zodiac signs: Horoscope for October 21-22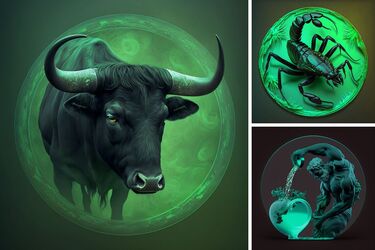 UAportal has prepared a horoscope for Taurus, Scorpio and Aquarius for the weekend of October 21-22. These zodiac signs can count on curiosity, adaptability, and resilience to guide them.
Taurus.
Taurus can look forward to a positive weekend. Increased curiosity encourages you to explore new ideas and take on challenges. You should trust your instincts and follow your intuition, which will lead you in the right direction.
However, Taurus may face some setbacks. You should not let these obstacles distract you from your goals. You should see them as opportunities for growth. By remaining focused and determined, you can overcome any difficulties.
Scorpio.
Scorpios may feel a mixture of restlessness and a desire for change. It is recommended that you embrace this curiosity and explore new paths that match your passions. This way, you can discover hidden talents and opportunities for personal growth.
Read also: The "Age of Villains" will bring great success to three zodiac signs: their lives will be turned upside down
The period may not be the best for career growth or decision-making for Scorpios. You should reassess your goals and adjust your strategy if necessary. Setbacks are temporary, so you need to be patient and persistent to achieve your professional goals.
Aquarius.
Aquarians are in for a busy period full of creative energy. It's important to let your imagination run wild and immerse yourself in artistic endeavors or projects that will showcase your unique talents.
These days, Aquarius relationships may reach a turning point. Openness and frankness in communication can lead to significant events in relationships with loved ones.
As UAportal reported earlier, astrologers have named the two most evil zodiac signs that are capable of terrible revenge.
If you want to get the latest news about the war and events in Ukraine, subscribe to our Telegram channel!