Horoscopes
Three signs of the zodiac will be attracted by the unknown: Horoscope for August 15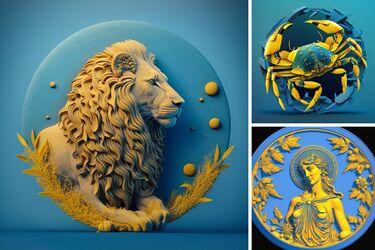 UAportal has prepared a horoscope for August 15 focused on the zodiac signs Cancer, Leo, and Virgo. Find out what Tuesday has in store for these signs and how they can get the most out of it.
Cancer
People born under the sign of Cancer may feel a surge of creativity and creative potential. Embracing this energy can help in their endeavors. It's a great day to explore new artistic endeavors or activities that allow you to express yourself.
In terms of emotional balance, Cancerians can feel calm and stable on this day. Emotions are in harmony, which allows you to gracefully overcome any difficulties. This is an opportunity to connect with your inner self and reflect on your feelings. By maintaining emotional balance, you can make clear decisions that are in line with your true aspirations.
Leo
Leos can expect a day full of excitement and new experiences. Whether you're learning a new hobby or venturing into uncharted territory, this is the perfect time to step out of your comfort zone. Embracing the unknown can lead to exciting adventures and personal growth.
Read also: Fate is preparing unexpected twists and turns in the lives of three zodiac signs: August horoscope
On this day, Leos may feel drawn to new experiences and adventures. This can manifest itself in many ways, such as traveling to an unknown place, meeting new people, or trying a different activity. Stepping outside of your routine can help you expand your horizons and discover hidden talents or passions. Being fascinated by the unknown can lead to interesting opportunities.
Virgo
Virgos have a chance to learn something new. Whether it's acquiring a new skill, gaining knowledge on a particular subject, or expanding your understanding of the world, it's recommended that you take advantage of the opportunity to broaden your horizons. Participation in activities that stimulate the mind and provide intellectual challenges is encouraged.
This could be a new project at work, a thought-provoking conversation, or an educational opportunity. The search for new knowledge can contribute to personal growth and broaden your horizons. By adopting a lifelong learning mindset, you can achieve continuous development and prosperity in all areas of life.
As reported by UAportal, earlier astrologers named the two most evil signs of the zodiac, which are capable of terrible revenge.
If you want to get the latest news about the war and events in Ukraine, subscribe to our Telegram channel!