Horoscopes
Three zodiac signs will face major obstacles: August 24 horoscope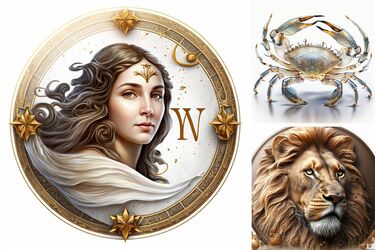 UAportal has prepared a horoscope for Leos, Virgos, and Cancers for August 24. The stars have prepared a unique experience for these signs on this day.
Cancer
Cancers may be in a reflective and introspective mood. It is important to focus on self-care and emotional well-being. Activities that bring comfort and calm, such as spending time with loved ones or creating art, will be beneficial.
Cancerians can expect to learn something new and expand their knowledge. Whether through formal education, engaging in intellectual discussions, or being open to new perspectives, this day offers a chance for growth. Curiosity and seeking opportunities to expand your understanding of the world around you will enrich your life and deepen your understanding of yourself and others.
Leo
People born under the zodiac sign of Leo may experience a surge of creativity and intuition. By letting their imagination run wild, they can take on new artistic projects and get involved in activities that allow them to express themselves. The situation will help build confidence and charisma, attracting positive attention from others.
Read also: The cards promise unexpected opportunities for the three signs of the zodiac: Tarot Horoscope for September
Leos may face challenges or obstacles. However, it is very important to maintain a positive and resilient attitude. Belief in their ability to overcome difficulties and an active attitude will help them navigate any negative news and situations that may arise.
Virgo
For those born under the zodiac sign of Virgo, this day is focused on expanding horizons. By stepping out of their comfort zone, Virgos will be able to explore different perspectives and ideas. Taking advantage of learning and personal growth opportunities will contribute to their overall development.
Virgos can expect positive changes in their lives. These discoveries can bring exciting opportunities and personal growth. Staying open and adaptable is essential as favorable shifts may come out of the blue. Trusting the process and accepting the transformation will be helpful.
As UAportal reported earlier, astrologers have named two of the most evil zodiac signs that are capable of terrible revenge.
If you want to get the latest news about the war and events in Ukraine, subscribe to our Telegram channel!