Horoscopes
Three zodiac signs will become more emotional: Horoscope for Friday, November 17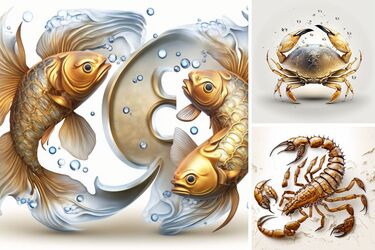 UAportal has prepared a horoscope for Cancer, Scorpio and Pisces for November 17. Learn about the changes in emotions of these three zodiac signs.
Cancer
On November 17, people born under the zodiac sign Cancer may feel a slight drop in energy. It is recommended to devote some time to introspection and self-reflection to restore balance and clarity to your life. Emotionally, there may be a deep sense of compassion and sympathy for others, which can help strengthen bonds and understanding.
For those born under the zodiac sign of Cancer, November 17 will be a truly happy day. Keeping a positive mood and a willingness to enjoy any challenges will lead to a better day.
Scorpio
If you were born under the zodiac sign Scorpio, November 17 will bring a number of important moments for introspection and a heightened sense of your surroundings. It is advisable to trust your instincts and rely on adaptability to cope with any problems that may arise. Don't forget to listen to your intuition and trust fate completely.
Success will accompany Scorpios on November 17. Believe in your strength and focus on achieving your goals. Hard work and efforts will bring positive results.
Pisces
Pisces on November 17 will be interested in the days and will be eager to explore new things. Pisces will meet unexpected people or find themselves in situations that will fire the imagination. Treat these encounters with an open mind and allow them to expand your horizons.
These encounters can bring new and exciting opportunities into your life. Embrace the unpredictability of life and allow yourself to be exciting and open-minded. Trust that these new experiences will lead you to personal growth and development.