Horoscopes
Three zodiac signs will focus on their health: Horoscope for November 12th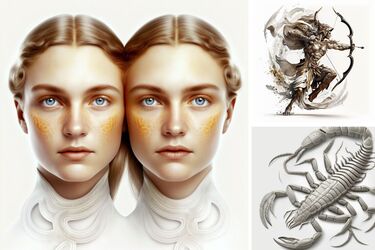 UAportal has prepared a horoscope for Gemini, Sagittarius, and Scorpio for November 12. This Sunday will promote a healthy lifestyle for representatives of these zodiac signs.
Gemini
Gemini should prioritize their well-being and maintain a healthy balance between their physical and mental state. Regular exercise, such as yoga or brisk walks, can help relieve stress and promote overall well-being. Taking short breaks and engaging in relaxing activities such as meditation or reading contribute to a healthier and more balanced lifestyle.
Read also: Three zodiac signs can dramatically change their lives for the better: November horoscope
Sagittarius
To maintain their active lifestyle, Sagittarius should take care of their health and well-being. Outdoor activities such as hiking or cycling provide a sense of adventure and help improve fitness simultaneously. Learning mindfulness practices and relaxation techniques, such as deep breathing exercises or journaling, will enable Sagittarians to find inner peace and maintain a healthy mental state.
Scorpio
For Scorpios, maintaining holistic well-being and effectively managing emotions is crucial. Engaging in exercises that allow them to channel their energy, such as intense training or martial arts, is beneficial for their overall health and emotional balance. Learning stress management techniques, like meditation, or participating in creative activities such as art or music, helps them manage emotions and maintain a healthy lifestyle.
As reported by UAportal, earlier astrologers identified the two most vengeful zodiac signs capable of seeking revenge.
If you want to get the latest news about the war and events in Ukraine, subscribe to our Telegram channel!