Horoscopes
Three zodiac signs which will realize their deepest desires: Horoscope for the end of October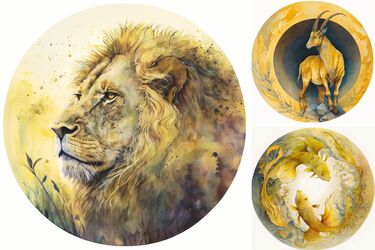 UAportal has prepared a horoscope for Leo, Capricorn and Pisces. Find out about the characteristics and potential of these zodiac signs that can easily turn their dreams into reality.
Leo
Leos, the kings of the zodiac, need to prepare for the realization of their innermost desires. Thanks to their natural charisma, leadership skills, and unwavering belief in themselves, Leos are destined to achieve greatness on their chosen path. This is their time to sow and begin the transformational journey toward their dreams.
Read also: Three zodiac signs that will have unforgettable adventures: Horoscope for the end of October
Capricorn
Capricorns, ambitious representatives of the earth sign, should also prepare to realize their deepest dreams. With their keen sense of discipline, perseverance, and pragmatic approach, Capricorns have what it takes to turn their dreams into reality. This is the perfect time to focus on your goals, work hard, and reap the rewards of your efforts.
Pisces
Pisces, the creative representatives of the water sign, should expect their cherished dreams to come true. Thanks to their deep emotional connections and vivid imagination, Pisces can tap into their creative potential and make their dreams come true. They should trust their instincts, listen to their intuition, and embark on a spiritual journey to meet their aspirations.
As UAportal reported earlier, astrologers have named the two most evil zodiac signs that are capable of terrible revenge.
If you want to get the latest news about the war and events in Ukraine, subscribe to our Telegram channel!