Horoscopes
Three zodiac signs will reveal fashion secrets: November Horoscope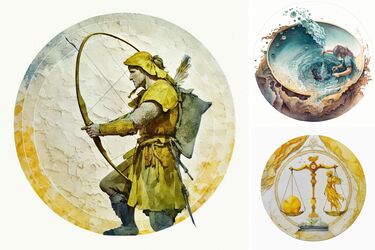 UAportal has prepared a horoscope for Libra, Sagittarius, and Aquarius. Learn how these zodiac signs shape fashion trends and find inspiration for your wardrobe.
Libra
Libras are natural trendsetters in the world of style. They have an impeccable sense of style and a keen eye for detail. Deeply valuing balance, harmony, and beauty, Libras can easily combine different elements to create unique and striking looks.
Read also: "The Age of the Villains"
Sagittarius
Sagittarius is characterized by an adventurous spirit, which is reflected in their approach to fashion. Constantly on the lookout for new trends, they explore different cultures and aesthetics for inspiration. Fearless and optimistic, Sagittarians easily embrace avant-garde and unconventional styles, pushing the boundaries and engaging the fashion world.
Aquarius
As visionaries and innovators, they often pioneer new trends that challenge traditional fashion norms. Easily combining classic and modern styles, Aquarians add eccentricity to their outfits. Their ability to anticipate fashion trends even before they appear positions them as important influencers in the industry.
As reported by UAportal earlier, astrologers have named the two most evil zodiac signs that are capable of terrible revenge.
If you want to get the latest news about the war and events in Ukraine, subscribe to our Telegram channel!