Horoscopes
Three zodiac signs will reveal their culinary potential: Horoscope for the week of 23-29 October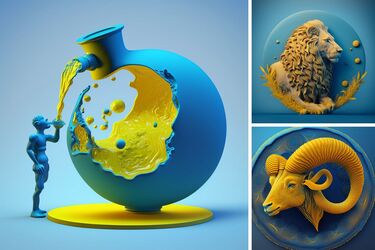 UAportal has prepared a horoscope about a potential culinary adventure that awaits Aquarians, Lions and Aries. They can unlock their hidden potential and start achieving gastronomic mastery.
Aquarius
Aquarians, one of the zodiac signs that may improve their culinary skills soon, cause they have a natural curiosity and a penchant for experimentation. Their innovative nature and ability to think outside the box make them excellent masters in the kitchen, allowing them to create unique and unusual dishes.
Read also: Three zodiac signs prone to moving: Horoscope for the end of October
Leo
Leo, another zodiac sign with a penchant for culinary excellence, has a flair for the dramatic and loves to be the center of attention. Leos are capable of creating visually stunning dishes that are memorable and leave a lasting impression. They fearlessly take culinary risks, experimenting with complex flavors and unique ingredients.
Aries
Aries, known for their energetic and passionate nature, are sure to sharpen their culinary skills. Their unwavering desire for competition and love of challenges encourages them to explore new techniques and perfect their recipes. Aries willingly make efforts to become culinary experts and unleash their creativity in the kitchen.
As UAportal previously reported, earlier astrologers named the two most evil signs of the zodiac, which are capable of terrible revenge.
Want to receive the most up-to-date news about the war and events in Ukraine - subscribe to our Telegram channel!