Horoscopes
Three zodiac signs will have a day full of curiosity: Friday, October 27 horoscope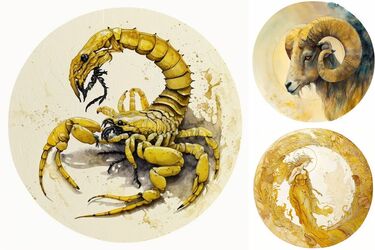 UAportal has prepared a horoscope for Scorpio, Aries, and Virgo for October 27. Discover the opportunities and challenges that await these zodiac signs throughout the day.
Scorpio
Scorpios can look forward to a day of curiosity, adaptability, and resilience in the face of adversity. This is a time of exploration and discovery, when new opportunities may arise. Scorpios need to embrace change and open up to new experiences.
In terms of love, Scorpios may find that passion and intensity are the driving forces. Relationships may experience a surge of emotional energy, which will foster deeper connections and meaningful conversations. However, beware of power struggles and possessiveness, as they can hinder the development of the relationship.
Aries
Aries may feel a surge of confidence and perseverance. This is a good time to take on a leadership role and tackle problems head-on. The competitive spirit can shine through, allowing you to succeed in your endeavors.
Read also: Three zodiac signs that will have unforgettable adventures: Horoscope for the end of October
Aries may face unwanted news or problems. You need to approach these obstacles with resilience and strength. Every setback is an opportunity for growth. It is important to believe in your ability to overcome problems and maintain an optimistic outlook on the future.
Virgo
Virgos will have a day that will bring a balance between practicality and creativity. They may feel inspired to make art or look for new ways to express themselves. Attention to detail and analytical skills can also be useful in solving problematic situations. You should trust your instincts and rely on your meticulousness to succeed in any endeavor.
As for the profession, the day emphasizes the importance of communication and teamwork. Joint efforts can lead to innovative ideas and projects. You can take on a leadership role by effectively organizing and delegating tasks. You should focus on your goals and be open to feedback from colleagues.
As UAportal reported earlier, astrologers have named the two most evil zodiac signs that are capable of terrible revenge.
If you want to get the latest news about the war and events in Ukraine, subscribe to our Telegram channel!