Horoscopes
Three zodiac signs will have a day full of curiosity and personal growth: November 7 horoscope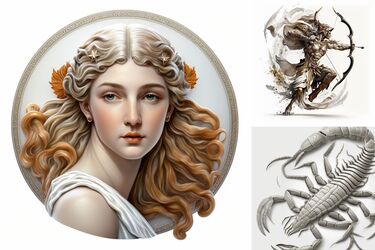 UAportal has prepared a horoscope for Virgo, Sagittarius and Scorpio for November 7. Find out about a day full of curiosity and positive changes for these zodiac signs.
Virgo
Virgos should expect an increase in curiosity, adaptability, and resilience. You should trust your instincts and practical nature to overcome challenges and seize opportunities. It's important to maintain a healthy work-life balance and let your determination drive you to success.
Virgos may face obstacles or delays this day. However, their adaptability and problem-solving skills will help them overcome these setbacks. It is recommended to seek advice or support and believe that setbacks often lead to better results.
Sagittarius
Sagittarius will be driven by adventure and enthusiasm, with optimism and drive guiding them. Expect personal growth and exciting endeavors as they strike a balance between spontaneity and responsibility.
Read also: Three zodiac signs will overcome social challenges: рoroscope for November 6-12
The day brings Sagittarius positive changes and opportunities for growth. You need to be optimistic, take risks, and establish new connections that open up new perspectives. It is recommended to take a step towards these changes for the sake of self-realization and happiness.
Scorpio
Scorpios need to trust their intuition and delve deeper into matters that require attention this day. Emotional depth and ingenuity will help you unleash your hidden potential. Keep an open mind and be flexible as the day's surprises may offer valuable insights.
Scorpios need to be prepared for the surprises of the day as unexpected meetings can provide new opportunities. It is worth adapting to the unexpected and letting them contribute to positive growth and transformation.
As reported by UAportal, earlier, astrologers named the two most evil zodiac signs that are capable of terrible revenge.
If you want to get the latest news about the war and events in Ukraine, subscribe to our Telegram channel!