Horoscopes
Three zodiac signs will attract success if they wear these minerals: Horoscope for August 16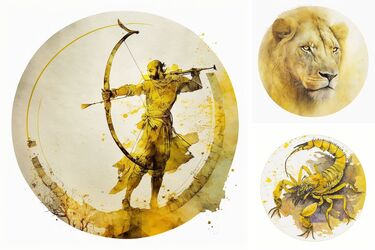 UAportal has prepared a horoscope about the influence of gemstones on August 16 for Leo, Scorpio, and Sagittarius. Find out how the energy of topaz, aventurine, and red coral can improve your day and lead to a happy future.
Leo
The stone associated with the sign of Leo on August 16 is topaz. It comes in a variety of colors, including blue, gold, pink, and red. It is believed that the stone enhances intuition and gives the ability to influence others.
Embrace the power of topaz and let its magical energy guide you. Trust your instincts and use your powers of persuasion to positively influence the people around you. With topaz at your side, great achievements are within reach.
Scorpio
Aventurine is the stone associated with the sign of Scorpio, especially on August 16. The stone shows colors reminiscent of the starry sky, ocean depths, and fragments of the sun. It is believed to enhance the love of life, bring emotions of joy, and provide clarity of mind.
Read also: Карти обіцяють трьом знакам зодіаку несподівані можливості: Гороскоп Таро на вересень
Embrace the energy of adventure and let it guide you to a deeper understanding of yourself and the world. Open your heart to new experiences and let your creativity flow.
Sagittarius
Red coral is the birthstone of Sagittarius on August 16. It is believed to inspire bold deeds and adventures, as well as protect you from danger. Embrace the adventurous spirit of red coral and let it fuel your desire for exploration and discovery.
Get out of your comfort zone and discover the unknown. With Red Coral as a companion, you have the courage to follow your dreams and pave your own path.
As UAportal previously reported, astrologers have named the two most evil zodiac signs that are capable of terrible revenge.
If you want to get the latest news about the war and events in Ukraine, subscribe to our Telegram channel!