Horoscopes
Three zodiac signs will prepare for new journeys and adventures: Horoscope for November 6-12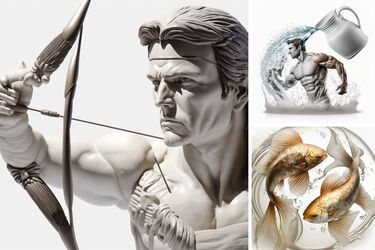 UAportal has prepared a horoscope for Sagittarius, Aquarius and Pisces for the week of November 6-12. Representatives of these zodiac signs should get ready for exciting adventures, unexpected meetings and deep connection with the world around them.
Sagittarius
Sagittarians are advised to embrace their thirst for travel and step out of their comfort zone this week. You should trust your intuition in charting a course for new adventures. It is important to prioritize self-care so that you don't lose your temper amidst the excitement and preserve unforgettable memories along the way.
Read also: Three zodiac signs on the threshold of sudden fame and public recognition: Horoscope for November
Aquarius
For Aquarians, this week offers an opportunity to broaden perspectives thanks to traveling. It is worth freeing yourself from routine and immersing yourself in a new culture and environment. It is recommended to show curiosity, expand your horizons and prepare for an exciting journey full of new acquaintances.
Pisces
Pisces seeks to find a balance between exploration and introspection. It is advisable to take time for reflection before embarking on exciting adventures. You should seek solace in nature, engage in activities that develop the mind, body and spirit, and listen to your inner voice for meaningful events.
As UAportal previously reported, earlier astrologers named the two most evil signs of the zodiac, which are capable of terrible revenge.
Want to receive the most relevant news about the war and events in Ukraine - subscribe to our Telegram channel!