Horoscopes
Three signs of the zodiac will be tempted to try something new: Horoscope for August 23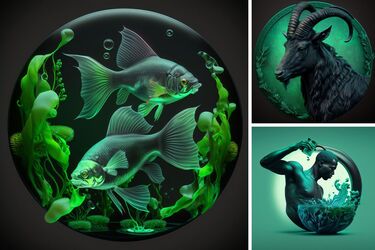 UAportal has prepared a horoscope for Capricorns, Aquarius, and Pisces for August 23. Get ready to find out what the stars have in store for these zodiac signs on this exciting day.
Capricorn
Capricorns can look forward to a day full of opportunities for personal growth and success. The horoscope indicates a surge of creativity and intuition that can be of great benefit to professional endeavors. This is a good time to take calculated risks and bold steps towards your goals.
For Capricorns, there is an opportunity to reconnect with old friends. This can be a great opportunity to reminisce, catch up, and strengthen ties. Meeting up with old friends can bring joy and a sense of serenity to Capricorn's life.
Aquarius
Aquarius, the horoscope predicts a day full of intellectual stimulation and potential for personal growth. This is a great time to engage in learning, such as taking a course, reading a book, or learning a new subject. Curiosity and a thirst for knowledge can lead to exciting opportunities and personal development for Aquarians.
Read also: Three zodiac signs should focus on love: Horoscope until the end of summer
There is a high possibility of learning something new. The stars indicate a potential opportunity to stumble upon valuable information or have educational conversations that broaden your understanding of certain topics. Aquarians are encouraged to take advantage of learning opportunities and seek out experiences that challenge their current knowledge.
Pisces
Pisces, your horoscope predicts a day full of new experiences and adventures. This is the perfect time to go on a spontaneous trip, try a new hobby, or engage in an activity that ignites a sense of adventure. Pisces is recommended to fully immerse themselves in the joy of new experiences.
The universe wants to bring exciting opportunities, whether it's trying a different cuisine, exploring a new place, or meeting new people. You should embrace spontaneity and the unknown. For the representatives of the Pisces sign, it's time to get rid of the routine and allow yourself to be open to the magic of life's adventures.
As UAportal reported earlier, astrologers named two of the most evil zodiac signs that are capable of terrible revenge.
If you want to get the latest news about the war and events in Ukraine, subscribe to our Telegram channel!