Horoscopes
Three zodiac signs will be recognized for their work: horoscope for Tuesday, November 7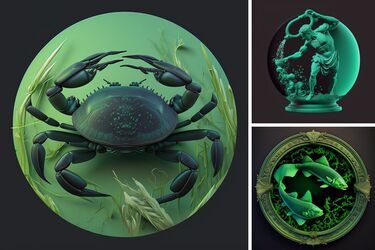 UAportal has prepared a horoscope for Cancer, Aquarius and Pisces for November 7. Find out what situations these zodiac signs will face from potential successes and recognition for hard work to opportunities for growth and new knowledge.
Cancer
Cancers will have a day filled with positive energy and excitement. They may find themselves in a social environment where a sense of humor and lightheartedness will help build connections and strengthen relationships. They should immerse themselves in joyful vibrations and enjoy the beauty of the moment.
On this day, success seems to be within reach for Cancers. Hard work and determination are likely to pay off, whether in your career, personal relationships, or endeavors. You should take advantage of opportunities and believe in your abilities. You need to stay focused and not lose your perseverance as it will pave the way for achievements.
Aquarius
For Aquarius, the horoscope indicates a day of growth and self-discovery. The energies of the day encourage you to seek new knowledge and engage in intellectual activities. This is the perfect time to expand your skills or delve into topics of interest. It is recommended to take the chance to broaden your horizons and approach life with an open mind.
Read also: Three zodiac signs will overcome social challenges: horoscope for November 6-12
Aquarians may receive well-deserved recognition for their selfless efforts. Whether it's professional achievements or personal successes, the people around you are likely to recognize your hard work. You should accept this recognition and let it fuel your desire to reach even greater heights.
Pisces
Pisces horoscope predicts a day full of curiosity and potential for growth. They may encounter situations that challenge their worldview and offer valuable life lessons. You should use these opportunities to learn something new and broaden your horizons.
Pisces will discover new opportunities for learning and growth in various areas of life. They can gain a lot from new experiences, meeting different people, or immersing themselves in their field of interest. You should be receptive to different ideas and approaches as they can bring interesting discoveries.
As UAportal reported earlier, astrologers have named the two most evil zodiac signs that are capable of terrible revenge.
If you want to get the latest news about the war and events in Ukraine, subscribe to our Telegram channel!