Horoscopes
Three zodiac signs will receive recognition for their work: Horoscope for August 23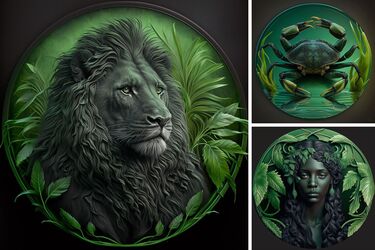 UAportal has prepared a horoscope for August 23 for the zodiac signs Cancer, Leo, and Virgo. Find out what the stars have in store for these characters.
Cancer
People born under the zodiac sign of Cancer may experience a surge of creativity and intuition. It is recommended to trust your instincts and embrace your artistic side. You should let your imagination guide you and not be afraid to think outside the box.
There is an opportunity for Cancers to face positive surprises. You should remain open to unexpected opportunities and be ready to take advantage of them. Whether it's a spontaneous invitation or a chance meeting, you should be enthusiastic about the unexpected.
Leo
People born under the zodiac sign of Leo should focus on clarity and understanding. Taking time for introspection and self-reflection can lead to a deeper understanding of emotions and thoughts. It is recommended to seek moments of solitude to gain insight into yourself and relationships.
Read also: Three zodiac signs should focus on love: Horoscope until the end of summer
Delving into emotions and thoughts will provide valuable insight. Trusting your instincts and looking at situations from different perspectives will lead to deeper understanding. This newfound clarity will help you make informed decisions and overcome any difficulties that may arise.
Virgo
People born under the zodiac sign of Virgo can expect to be recognized for their hard work. This recognition may come in the form of praise, rewards, or even a promotion. Acceptance of this fact and pride in their achievements are encouraged.
Hard work pays off, so the effort has not gone unnoticed, and others recognize the value of your contribution. This understanding gives you confidence and motivates you to continue to strive for excellence. It is recommended to accept praise and let it fuel your ambitions.
As UAportal reported earlier, astrologers have named the two most evil zodiac signs that are capable of terrible revenge.
If you want to get the latest news about the war and events in Ukraine, subscribe to our Telegram channel!