Horoscopes
Three zodiac signs will feel positive and creative: October 23 horoscope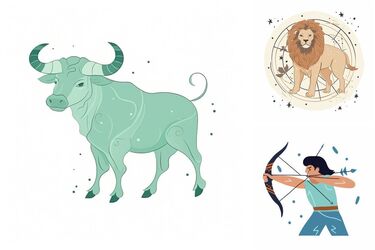 UAportal has prepared a horoscope for October 23 for Taurus, Lions and Sagittarius. From optimism and self-expression to opportunities for personal growth, each sign has key revelations for the day.
Taurus
Taurus can feel a surge of optimism and hope. This is a great time to set new goals and take the necessary steps to achieve them. You should trust your intuition and use practicality to effectively navigate difficult situations.
Luck awaits Taurus on the horizon. The positive energy surrounding them opens the door to growth and progress, encouraging them to try new things and seize opportunities.
Leo
Lions may experience a strong sense of creativity and self-expression, making this an ideal time to showcase their talents. Embracing your unique personality and confidently sharing ideas can lead to exciting opportunities.
Read also: Three zodiac signs are prone to moving: Horoscope for the end of October
Leos are expected to experience moments of clarity and understanding on this day. They have a chance to gain insight into themselves and others by fostering deep connections and engaging in meaningful conversations.
Sagittarius
Sagittarians are encouraged to embrace positivity on this day and seize opportunities for personal growth. Investing in yourself by learning new skills and exploring new interests is especially recommended.
Sagittarians can look forward to opportunities for self-improvement. By embracing these opportunities with all their heart and believing in their abilities, they can achieve greatness and enjoy a journey of self-discovery.
As UAportal previously reported, earlier astrologers named the two most evil zodiac signs that are capable of terrible revenge.
Want to receive the most relevant news about the war and events in Ukraine - subscribe to our Telegram channel!