Horoscopes
Three zodiac signs will feel positive and creative inspiration: Horoscope for Thursday, November 2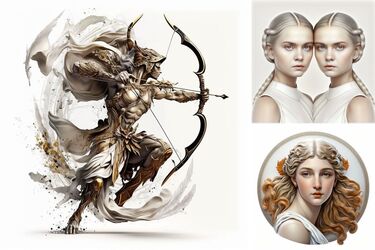 UAportal has prepared a horoscope that reveals what awaits Sagittarius, Gemini, and Virgo on November 2. From the desire for adventure to a surge of creative inspiration and anticipation of pleasant surprises, find out what awaits these zodiac signs.
Sagittarius
Sagittarius will have an exciting day full of adventure and spontaneity. Embrace the desire to explore new horizons and let your playful spirit lead you to exciting experiences. Socialize with loved ones and enjoy the youthful energy around you.
For Sagittarius, a new perspective opens up in terms of health and well-being. A surge of vitality and energy will motivate them to exercise and practice self-care, ensuring a balanced and fulfilling day.
Gemini
Gemini will be drawn to creativity, their imagination will be sharpened and overflowing with ideas. This is a great opportunity to brainstorm, collaborate, and find new ways to express yourself.
Read also: Three zodiac signs will start to change their lives dramatically: November Horoscope
The creative inspiration that fills Gemini encourages them to tap into their artistic abilities, think outside the box, and remain open to new experiences and perspectives. This can lead to exciting breakthroughs and innovative solutions.
Virgo
The Virgo horoscope indicates a day of practicality and attention to detail. This is the perfect time to structure your day and make a plan to achieve your goals.
For Virgo, positivity manifests itself in the form of surprises. Openness to new opportunities and willingness to step out of your comfort zone will lead to beneficial results and personal growth.
As reported by UAportal, earlier, astrologers named the two most evil zodiac signs that are capable of terrible revenge.
If you want to get the latest news about the war and events in Ukraine, subscribe to our Telegram channel!