Horoscopes
Three zodiac signs will experience a calm and harmonious day: Wednesday November 8 horoscope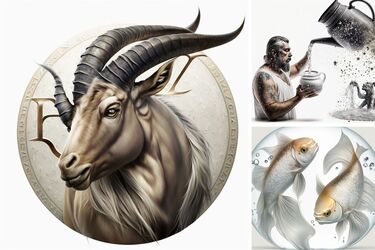 UAportal has prepared a horoscope for Capricorn, Aquarius and Pisces for November 8. These zodiac signs will discover opportunities to achieve peace, creativity and positive experiences.
Capricorn
Capricorns can look forward to a day filled with peace and harmony. This is a great time for inner reflection as the calm energy brings clarity and peace of mind. It is recommended that you take this opportunity to connect with your inner self and find comfort in silence.
The day offers Capricorns creative inspiration. They will feel a surge of imagination and originality, making this a great time to indulge in creative endeavors. With their down-to-earth nature and practical mindset, Capricorns will be able to channel this inspiration into something extraordinary.
Aquarius
Aquarius will have a day filled with promising opportunities and positive prospects. The energies of the day will increase adaptability and facilitate the acceptance of change. It's important to welcome this day with open arms and a willingness to explore new territories as it can lead to exciting adventures and new connections.
Read also: Three zodiac signs will face conflicts at work: November horoscope
Aquarians can look forward to good health and overall well-being. You should use this energy to improve your physical and emotional state and do things that bring you joy and satisfaction.
Pisces
Pisces can look forward to a harmonious and peaceful day. The surrounding energy is conducive to relaxation and inner peace. It is worth taking this opportunity to step away from the daily chaos and indulge in moments of solitude.
Pisces is advised to prioritize self-care and rejuvenation by indulging in activities that bring joy and nourish the soul. You should allow yourself to relax and listen to your intuition as this can lead to deep insights about yourself.
As UAportal reported earlier, astrologers have named the two most evil zodiac signs that are capable of terrible revenge.
If you want to get the latest news about the war and events in Ukraine, subscribe to our Telegram channel!