Horoscopes
Three zodiac signs will experience happiness and development: horoscope for Thursday, November 2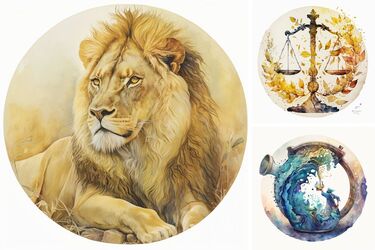 UAportal has prepared a horoscope for Leo, Libra and Aquarius for November 2. Find out the predictions of these zodiac signs.
Leo
Leos can count on a surge of energy and optimism. The horoscope suggests radiating positivity and attracting positive experiences. This is a great time to confidently achieve goals and fulfill dreams.
Leos will be lucky throughout the day. The influence of positive energies creates a favorable atmosphere for joy, laughter, and harmony. Participation in activities that ignite the spirit and bring joy is encouraged.
Libra
Libra can expect a harmonious and balanced day. The horoscope indicates the development of relationships through communication, understanding and acceptance of a diplomatic nature.
Read also: Three zodiac signs will begin to radically change their lives: November horoscope
Unfortunately, Libra may receive difficult news. Potential setbacks or failures may occur along the way. It's important to stay balanced and calm and approach the situation rationally
Aquarius
Aquarians can expect opportunities for personal growth and advancement. You should use your unique abilities, innovative ideas, and forward thinking. This is a good time to expand your horizons and deepen your knowledge.
It is recommended to take advantage of learning and adaptive opportunities. It is important to get out of your comfort zone and realize your ambitions with determination and confidence.
As UAportal reported earlier, astrologers have named the two most evil zodiac signs that are capable of terrible revenge.
If you want to get the latest news about the war and events in Ukraine, subscribe to our Telegram channel!