Horoscopes
Three zodiac signs will feel empathy and a connection with others: Friday, October 27 horoscope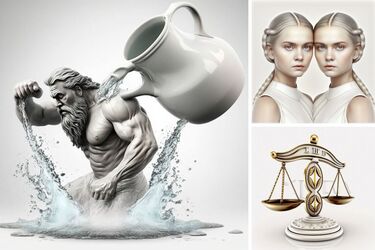 UAportal has prepared a horoscope for Aquarius, Gemini, and Libra for October 27. Let's see what the stars have in store for these three zodiac signs.
Aquarius
The stars are aligning for Aquarius, and the horoscope indicates interesting abilities on the horizon. You should use your compassionate nature and emotional depth to create meaningful connections. There is an opportunity to express your creativity and share your unique ideas.
Aquarians are in for a stroke of luck. The universe opens up opportunities for prosperity and success. It is recommended to be open to new experiences and trust your intuition, accepting the positive energy around you.
Gemini
For Gemini, the horoscope reveals the potential for emotional connection. Your innate compassion and listening skills will have a positive impact on others. You should strengthen relationships and empathize with others.
Read also: Three zodiac signs that will have unforgettable adventures: Horoscope for the end of October
Gemini has a chance to help others. You should use your gift of communication and empathy to offer support and guidance. Wisdom and kindness will be highly appreciated. You need to lend a helping hand to those who need it most.
Libra
The Libra horoscope offers exciting opportunities for personal and professional growth. You need to follow your passions and expand your knowledge, learn new skills and open up new horizons.
Libras are encouraged to take bold steps forward and believe in their potential. The universe will lead Libra to success and growth, it's time for transformation.
As UAportal reported earlier, astrologers have named the two most evil zodiac signs that are capable of terrible revenge.
If you want to get the latest news about the war and events in Ukraine, subscribe to our Telegram channel!