Horoscopes
Three zodiac signs will find a soul mate: horoscope until the end of the year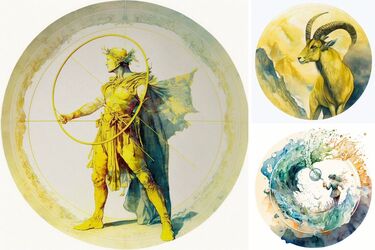 UAportal has prepared a horoscope for Sagittarius, Capricorn and Aquarius until the end of 2023. Find out how the signs can find true love and build harmonious relationships.
Sagittarius
Sagittarius has a better chance of meeting a soulmate this year. Their adventurous and open-minded nature, combined with their desire for freedom and discovery, increases the likelihood of meeting the perfect partner.
Read also: "The Age of Villains" will bring great success to three zodiac signs: their lives will be turned upside down
Capricorn
They value stability and reliability, so they can find the perfect partner at work or through business connections. They are most attracted to ambitious and family-oriented people who can create a solid foundation for a long-term partnership.
Aquarius
Emphasizing friendship and intelligence, Aquarians have a talent for creating relationships with unexpected people. Their heart is looking for independent and confident partners who are passionate about community projects and intellectual pursuits. Social gatherings, networking events, and online platforms are potential places for Aquarians to meet their soulmate.
As UAportal reported earlier, astrologers have named the two most evil zodiac signs that are capable of terrible revenge.
If you want to get the latest news about the war and events in Ukraine, subscribe to our Telegram channel!