Horoscopes
Three zodiac signs will start overcoming fears: Horoscope for the end of October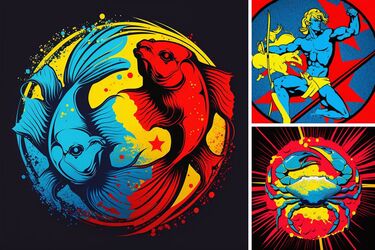 UAportal has prepared a horoscope about the fears that Pisces, Sagittarius and Cancer have been fighting for too long. Learn about the ways in which these zodiac signs will finally conquer their fears.
Pisces
Pisces, one of the three zodiac signs, is determined to conquer their long-held fears. As members of a water sign, Pisces often succumb to their emotions and can be easily gripped by fear.
However, this month will bring significant changes for Pisces as they will be able to utilize their innate resilience and find inner strength. With a renewed sense of courage, Pisces will confront fears and break free from the shackles that have been holding them back.
Sagittarius
Sagittarius, another zodiac sign in this trio, is able to overcome long-held fears. Known for their adventurous spirit, Sagittarians are constantly looking for new experiences and challenges.
Read also: Three zodiac signs will make their dreams come true: Horoscope for October
However, in the past, they may have been hindered by deep-seated fears. This month, Sagittarians will find the inner resolve to face their fears head-on and step out of their comfort zone, opening the way to a life without fear.
Cancer
Cancer, the last zodiac sign in the trio, will begin the journey to conquer long-held fears. As a deeply emotional and sensitive sign, Cancer often struggles with insecurities and fears that prevent them from realizing their full potential.
However, this month will be a turning point for Cancers, as they will find the strength to confront their deepest worries and doubts. Thanks to their innate caring nature and the support of loved ones, people of this sign will overcome their anxieties and become stronger and more resilient than ever before.
As UAportal previously reported, earlier astrologers named the two most evil signs of the zodiac, which are capable of terrible revenge.
Want to receive the most up-to-date news about the war and events in Ukraine - subscribe to our Telegram channel!