Horoscopes
Three zodiac signs will easily achieve their goals: November horoscope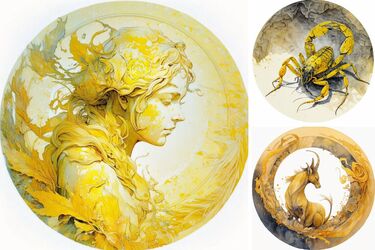 UAportal has prepared a horoscope for Virgo, Scorpio and Capricorn. These three zodiac signs have traits that contribute to their potential for success.
Virgo
The Virgo zodiac sign is likely to witness the culmination of their long-term goals. They have a meticulous and methodical nature that allows them to be unwavering in their determination.
Virgos are good at strategizing and prioritizing effectively, which keeps them steadily moving toward their goals. Whether it's reaching a career pinnacle, fulfilling personal aspirations, or going on a transformational journey, Virgos' discipline and determination ensure that their dreams come true.
Scorpio
Scorpio is another zodiac sign that is very likely to achieve their goals. They demonstrate unwavering determination and an indomitable spirit.
Read also: Three zodiac signs should prepare for challenges: November horoscope
Scorpios have an extraordinary level of perseverance, willing to make sacrifices and go above and beyond. Using their emotional depth and resilience, Scorpios overcome any obstacles that stand in their way of realizing their ambitions.
Capricorn
Capricorns have a strong work ethic combined with unwavering determination to achieve their long-term goals. Their ambitious and practical nature allows them to consistently move towards their aspirations.
Capricorns know how to manage their time effectively and break down complex tasks into simple steps. Thanks to a disciplined approach and patient perseverance, Capricorns significantly increase the chances of witnessing the realization of their long-held dreams.
As UAportal reported earlier, astrologers named two of the most evil zodiac signs that are capable of terrible revenge.
If you want to get the latest news about the war and events in Ukraine, subscribe to our Telegram channel!