Horoscopes
Three signs of the zodiac have seen positive changes: Horoscope for August 17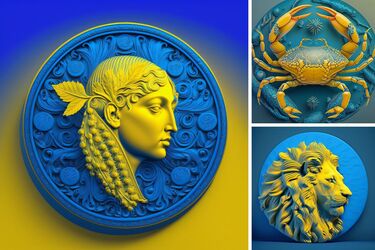 UAportal has prepared a horoscope for August 17. Immerse yourself in the world of astrology and find out what the stars have in store for Cancer, Leo, and Virgo.
Cancer
People born under the sign of Cancer may experience a surge of creativity and increased intuition. It is recommended to accept this energy and let it guide you in your endeavors. This is a good time to explore new experiences and take risks. Trusting your instincts and letting your imagination run wild is the key to success. Being open-minded and adaptable will help you make the most of emerging opportunities.
In terms of health and well-being, Cancers are characterized by a positive outlook. You may experience a renewed sense of vitality and energy. Whether it's exercise, meditation, or just spending time in nature, it's important to prioritize self-care and nourishing the body and mind.
Leo
Leos are in for a day full of excitement and adventure. They are encouraged to use their natural leadership skills and take control of any situation that arises. Their charisma and confidence will attract others, and they may find themselves in the spotlight. It is recommended to use this opportunity to showcase your talents and make a lasting impression.
Read also: The cards promise unexpected opportunities for the three signs of the zodiac: Tarot Horoscope for September
In terms of progress toward goals, Leos can expect a promising day. Significant progress can be made in realizing ambitions. It is very important to remain focused and determined, and not be afraid to take calculated risks. Trust in your own abilities and faith in your vision will lead to great achievements.
Virgo
Virgos can count on a sense of stability and practicality. Naturally, they are attracted to tasks that require attention to detail and organization. Focusing on performing duties efficiently and effectively will lead to success. Meticulousness will ensure a positive outcome in their endeavors.
As for meeting old friends, Virgo has an opportunity to strengthen their social ties on this day. It is recommended to contact those with whom you have not communicated for a long time and maintain these relationships. Meeting old friends can bring joy and a sense of nostalgia. It is recommended to cherish memories and create new ones together.
As UAportal reported, earlier astrologers named the two most evil zodiac signs that are capable of terrible revenge.
If you want to get the latest news about the war and events in Ukraine, subscribe to our Telegram channel!