Horoscopes
Three zodiac signs will succeed in their artistic endeavours: Horoscope for the end of October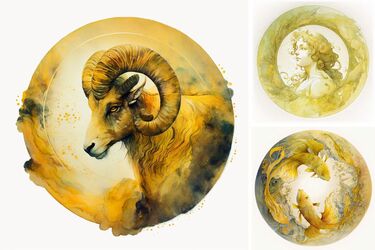 UAportal has prepared a horoscope for Aries, Virgo and Pisces for October 20. Let's consider the information that will help to orient themselves in matters of personal well-being, career aspirations and take advantage of the opportunities open to them.
Aries
Aries may experience a sense of optimism and hope. This is a perfect day to focus on new endeavors and opportunities. Their optimism and positive attitude can contribute to overall success. Asking others for advice and support can also be helpful.
In terms of career, Aries are advised to evaluate current goals and make necessary adjustments. A renewed sense of motivation and determination can propel them towards their professional aspirations. One should trust their instincts, be ready for change and take active steps towards their goals.
Virgo
As to Virgo it will be a positive and productive day, favorable for creativity and self-expression. The realization of passions and hobbies is welcome, and there may be opportunities to demonstrate your skills. It is important to trust yourself and promote personal growth.
Read also: Three signs of the zodiac will strengthen the connection with relatives: Horoscope for the end of October
Virgo men can expect progress in achieving their goals. Persistent hard work and dedication will begin to bear fruit, although success may not be immediate. Staying focused on goals, celebrating small victories and staying committed to long-term visions are key.
Pisces
Pisces can look forward to a day of good health and prosperity. Prioritizing self-care and engaging in activities that promote relaxation and positivity will improve overall health.
Exercise that promotes relaxation and listening to the body's needs is crucial. Nurturing physical and emotional well-being contributes to overall success.
As UAportal previously reported, earlier astrologers named the two most evil signs of the zodiac, which are capable of terrible revenge.
Want to receive the most up-to-date news about the war and events in Ukraine - subscribe to our Telegram channel!