Horoscopes
Three zodiac signs will succeed in their artistic endeavours: Horoscope for the end of October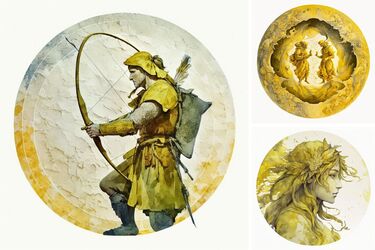 UAportal has prepared a horoscope of blossoming artistic endeavors and self-expressions of Sagittarians, Gemini and Virgo. Find out what the stars have prepared for the end of October.
Sagittarius
Sagittarius shines brightly among the zodiac signs that are expected to thrive in artistic endeavors and self-expression. With an adventurous spirit and boundless interest, Sagittarians find inspiration in various art forms. Their positivity and enthusiasm allow them to explore visual arts such as painting and photography, as well as performing arts such as theater and dance.
Read also: Three zodiac signs will find a deeper connection with nature: Horoscope for the end of October
Gemini
Gemini joinы the ranks of zodiac signs poised for artistic success. Gemini has a natural aptitude for creative expression. With a flexible mind and wit, Gemini embraces unconventional artistic ideas. Writing, poetry, and acting are areas where Gemini excel, using words to convey emotion and captivate an audience.
Virgo
Virgo finds peace and expression in artistic pursuits, solidifying their position as one of the zodiac signs which is destined for creative triumph. Gifted with a keen eye for detail and a meticulous approach, Virgos excel in disciplines such as painting, sculpture and architecture. Their practical and analytical mind brings precision and harmony to art.
As UAportal previously reported, earlier astrologers named the two most evil signs of the zodiac, which are capable of terrible revenge.
Want to receive the most up-to-date news about the war and events in Ukraine - subscribe to our Telegram channel!