Horoscopes
Three zodiac signs will be lucky: horoscope for the week of June 26 - July 2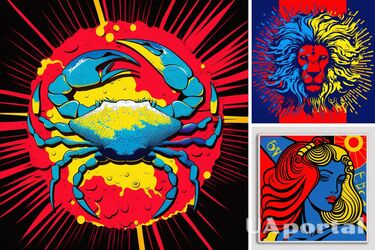 UAportal has prepared horoscopes for the week of June 26 - July 2, dedicated to wish fulfillment. Find out how astrological influences and celestial combinations can help fulfill the most intimate desires of Cancer, Leo, and Virgo.
Cancer.
Cancer, with the Moon in Capricorn, you're in for a week filled with wish fulfillment. The cosmic energies are in your favor, giving you the opportunity to make your dreams come true. Capricorn's practical and grounded influence enhances your ability to set clear goals and develop a solid plan of action.
You have the determination and perseverance needed to make great strides in realizing your desires. The universe recognizes your determination and will reward you with synchronicities and fortunate events that pave the way for the fulfillment of your desires. Trust your intuition and follow the signs that guide you to fulfill your deepest desires.
Leo.
Leo, with Saturn in your sign, wish fulfillment takes on a structured and disciplined approach. Your ambitious nature and natural leadership skills are key factors in making your desires come true. Saturn's influence brings a sense of responsibility and endurance to your path. You may have to face difficulties and overcome obstacles, but the rewards will be worth the effort.
Read also: July horoscope: what three zodiac signs the stars have in store for inspiration
With a strong determination and commitment to your goals, you will create the conditions for the fulfillment of your desires. The universe recognizes hard work and dedication, guiding you to opportunities and achievements that match your heart's desire. Take part in the process and don't be distracted, because the Cosmos supports your path to success.
Virgo.
Virgo, with Uranus in your sign, wish fulfillment takes on a unique and unconventional turn. Cosmic energies spark your curiosity and inspire you to think outside the box. An analytical mind and attention to detail allow you to recognize opportunities that may otherwise be missed. Uranus brings unexpected and transformative experiences, pushing you to realize your desires.
Embrace change and feel the excitement of the unknown. Innovating and taking calculated risks can lead to breakthroughs and unexpected paths to fulfillment. Trust your intuition and let the cosmic forces guide you to fulfill your deepest dreams.
As reported by UAportal, earlier astrologers named the two most evil zodiac signs that are capable of terrible revenge.
If you want to get the latest news about the war and events in Ukraine, subscribe to our Telegram channel!