Horoscopes
Three zodiac signs should try a new hobby: Horoscope for the week of 23-29 October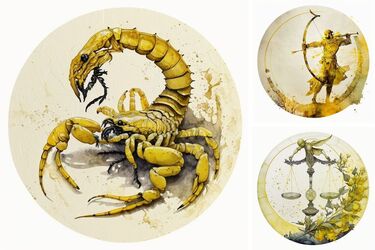 UAportal has prepared a horoscope for Scorpios, Sagittarians and Libra for October 23-29. These signs are able to unlock their potential by engrossing themselves in a new activity.
Scorpio
Known for their ardor and vigor, Scorpios have a unique ability to fully immerse themselves in new interests. Their unwavering determination and drive make them ideal candidates for starting a new and exciting hobby, channeling their exuberant energy into creative endeavors.
Read also: Three zodiac signs prone to moving: Horoscope for the end of October
Sagittarius
With their adventurous spirit and thirst for knowledge, Sagittarians enjoy developing themselves, pushing their boundaries and striving for personal growth. Exciting activities such as hiking, rock climbing and skydiving are among the hobbies they reach for and provide them with experiences that feed their lust for life.
Libra
Taking inspiration from activities such as gardening, interior decorating or fashion design, Libras can utilize their keen eye for detail and desire for an aesthetic harmony. Creating the right environment and expressing themselves through artistic forms play an important role in their quest for enjoyment.
As UAportal reported, earlier astrologers named the two most evil signs of the zodiac, which are capable of terrible revenge.
Want to receive the most relevant news about the war and events in Ukraine - subscribe to our Telegram channel!