Horoscopes
Three zodiac signs should prepare for surprises: horoscope for 25 August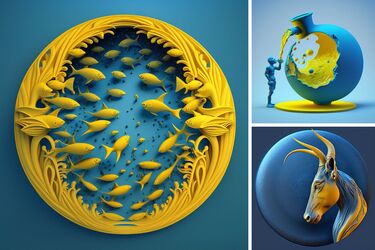 UAportal has prepared insights for Capricorns, Aquarius, and Pisces on 25 August. Find out what the day has in store for these zodiac signs in terms of growth opportunities, unexpected surprises, and spiritual connection.
Capricorn
Capricorns can look forward to a day full of opportunities for growth and success. This is a good time to showcase your skills and take on new responsibilities. Stay focused and motivated as your efforts are likely to be recognised and rewarded.
Capricorns may experience moments of clarity and understanding. This can be a time of introspection and self-reflection, which will provide valuable insight into emotions and motivations. Use this heightened awareness to make informed decisions and resolve any conflicts.
Aquarius
For Aquarius, this day will bring a sense of adventure and excitement. The horoscope suggests that unexpected opportunities to explore new territories and expand horizons may arise. This is a day to be curious and take advantage of the opportunities that open up.
Read also: Three zodiac signs will reveal the source of luck: Horoscope until the end of August
Aquarius, be prepared for positive surprises. The universe can bring unexpected blessings in the form of pleasant encounters, good luck, or random events. Accept surprises with an open mind and a positive attitude. They can lead to new connections, exciting opportunities, or feelings of joy and optimism.
Pisces
The horoscope indicates a deeper sense of connection to the universe and a heightened awareness of the spiritual journey. This is a good time for soul-nourishing activities such as meditation, journaling, or spending time in nature.
Pisces can experience a deep sense of spiritual growth and connection. This can manifest as deepening intuition, increased sensitivity to energy, or a stronger connection to the higher self. Embrace this spiritual journey and allow yourself to explore the depths of your soul.
As UAportal reported earlier, astrologers have named the two most evil zodiac signs that are capable of terrible revenge.
If you want to get the latest news about the war and events in Ukraine, subscribe to our Telegram channel!