Horoscopes
Three zodiac signs will have to rethink their path: Tarot horoscope for the beginning of October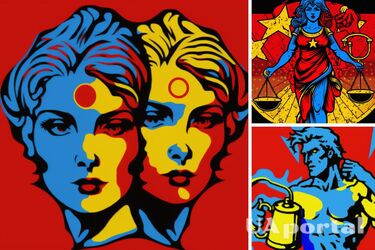 Uaportal has prepared a horoscope for the beginning of October to help zodiac signs navigate the cosmic energies. Dive into specific recommendations and messages for Gemini, Libra, and Aquarius.
Gemini
Gemini, this period is all about celebration, friendship, and collaboration. The Three of Cups appears in your horoscope, indicating a time of joy and social interaction. It encourages social contacts and a good time.
You may find yourself surrounded by friends and loved ones, creating a harmonious and joyful atmosphere. It's a great time to celebrate achievements and important events together. Participate in activities that promote cooperation and teamwork, as this will bring you closer to your goals.
Libra
Libra, this period carries the energies of the Judgment card, rebirth, and an inner calling. Use this time to reflect on past actions and decisions. Assess whether they are in line with your true values and aspirations. If necessary, make changes and start from scratch. This is an opportunity for self-assessment and realization of your life path.
Read also: Three zodiac signs will take risks and succeed: October Horoscope
Listen to your inner voice and trust your intuition. It will guide you on a path that is in line with your true self. Take on new endeavors and let go of any baggage that may be holding you back. The Court also reminds you to be open to feedback and constructive criticism. Seek advice from trusted mentors. Do some introspection and listen to your needs.
Aquarius
Aquarius, this period brings warnings against bondage, temptation, and materialism. The Devil card appears in your horoscope, symbolizing addiction, temptation, and materialism. The Devil card symbolizes weakness and spirituality. It warns against falling into the trap of desires or negative influences.
It's time to reassess your priorities and give up materialistic aspirations. Focus on what really matters in life, such as personal growth, meaningful relationships, and inner fulfillment. Do not fall into the trap of desires or negative influences.
As UAportal reported earlier, astrologers have named the two most evil zodiac signs that are capable of terrible revenge.
If you want to get the latest news about the war and events in Ukraine, subscribe to our Telegram channel!