Horoscopes
Three signs of the zodiac should follow the stars: horoscope for August 14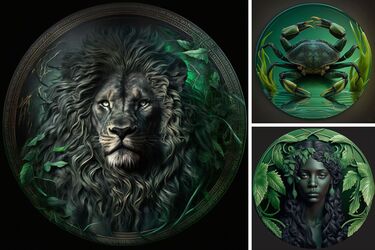 UAportal has prepared a horoscope that will help you navigate August 14. From creative endeavors to renewing old friendships, find out what awaits representatives of the signs of Cancer, Leo, and Virgo on Monday.
Cancer
On this day, people born under the sign of Cancer may feel a surge of creativity and intuition. Embrace this energy and let it guide you to seek out new experiences. This is a day to discover your creativity and feel free to express your imagination. Don't be afraid to think outside the box and try something new. Unique perspectives will bring fresh ideas and opportunities.
Success may be on the horizon for those who belong to the Cancer sign. Hard work and dedication will pay off and positive results can be seen. Stay focused and keep putting in the effort and the desired success will be achieved. Celebrate your achievements and be proud of them.
Leo
Leo is in for a day full of excitement and adventure. Natural charisma and charm will attract positive energy and people into your life. This is a great time to step out of your comfort zone and explore new spaces. Trust your instincts and follow your passions.
Read also: Fate is preparing unexpected twists and turns in the lives of three zodiac signs: August horoscope
Today, Leo signs may have a chance to reconnect with old friends. Reach out to those you haven't talked to in a while and reminisce about the good times. This is a reminder of strong ties and shared memories. Use this opportunity to improve your relationships and create more enjoyable moments together.
Virgo
On this day, the Virgo zodiac sign may feel a harmonious state of mind. Personal relationships will be successful as open communication and mutual understanding will be prioritized. Take time to listen to your loved ones and express your feelings honestly. This will create a solid foundation for deeper connections and emotional intimacy. Accept the love and support around you.
In personal relationships, Virgo signs will enjoy harmony today. Being in sync with loved ones, conflicts will be easily resolved. This is a time to value your connections and maintain them with care. Show gratitude to people who bring joy and stability. Together, you can create a harmonious and loving environment.
As UAportal reported earlier, astrologers have named the two most evil zodiac signs that are capable of terrible revenge.
If you want to get the latest news about the war and events in Ukraine, subscribe to our Telegram channel!