Horoscopes
Unbelievable success awaits the three signs of the zodiac: horoscope for August 21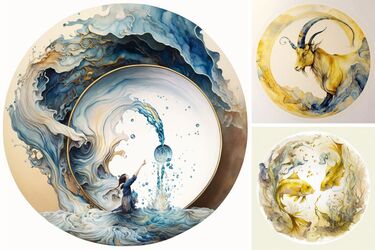 UAportal has prepared a horoscope that will help you make the most of the opportunities that open on August 21. We are talking about Capricorns, Aquarius, and Pisces.
Capricorn
On this day, Capricorn can feel a surge of creativity and inspiration. Embrace this energy and use it to fulfill your passions and hobbies. Stay open-minded and be willing to explore new avenues for personal growth. The universe supports the path to self-expression and self-actualization.
Capricorn, there is a chance for spiritual growth and networking. Take time to reflect. Engage in activities that nourish the soul, such as meditation, yoga, or spending time in nature. Trust that the universe is leading you to a deeper understanding of your purpose and inner spirituality.
Aquarius
On this day, the cosmos is aligned in favor of Aquarius. You may experience a surge of self-confidence and a sense of accomplishment. Success is within reach, so seize the opportunities that come your way. Hard work and dedication will pay off, leading to recognition and rewards. Embrace this positive energy and allow it to propel you to heights.
Read also: The cards promise unexpected opportunities for three zodiac signs: Tarot Horoscope for September
For Aquarius, this day promises success in various aspects of life. Whether it's your career, relationships, or personal endeavors, your efforts will bear fruitful results. Stay focused and determined, and don't be afraid to step out of your comfort zone. See challenges as opportunities for growth and learning. The universe supports the path to success, so believe in yourself and follow your dreams.
Pisces
Pisces may feel the urge for personal development and self-improvement. Take this opportunity to reflect on your goals and aspirations. Formulate your intentions for the future and take small steps to realize them. Accept your unique gifts and talents and believe in your ability to create the life you want.
Pisces, there is a chance for personal development and self-discovery. Engage in activities that develop your mind, body, and soul. Expand your knowledge and seek out experiences that challenge you. Embrace emotions and allow yourself to be vulnerable. Believe that this path of personal development will lead to a more fulfilling and authentic life.
As UAportal reported earlier, astrologers have named the two most evil zodiac signs that are capable of terrible revenge.
If you want to get the latest news about the war and events in Ukraine, subscribe to our Telegram channel!