Society
Top 5 most popular specialties in Ukrainian universities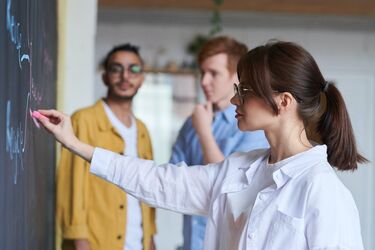 In today's educational environment, it is very important to know the popular majors. UAportal will tell you about the top 5 most popular specialties, emphasizing their importance and prospects offered to students.
Computer Science
In terms of popularity, computer science stands out among institutional specialties. This field caters to the growing demand for technically aware professionals in various industries. With programming, software development, graduates excel in industries like technology, finance and others.
Business Administration
Another highly sought-after major is business administration. It provides students with a comprehensive knowledge of various business functions such as finance, marketing, management, and entrepreneurship. This field opens doors to a variety of career paths, from consulting and project management to human resource management.
Psychology
Psychology students gain an understanding of human nature and develop the necessary skills of research, analysis and critical thinking. This discipline offers a variety of career opportunities in fields such as clinical psychology, counseling, research, and education.
Read also: The 5 Minute Rule: How to have much more time and be more productive
Biology
Biology, with its focus on living organisms and ecosystems, keeps attracting students with a passion for the natural world. Genetics, evolution, ecology, and physiology are integral components of this major, offering potential careers in health care, research, biotechnology, nature, and education.
Engineering
Engineering provides practical application of scientific knowledge in the design, construction, and improvement of various structures, machines, and systems. It includes disciplines such as civil, mechanical, electrical and chemical engineering, opening up employment opportunities in industries such as manufacturing, construction, energy and aerospace.
As a reminder, we've previously written about how to unlock your potential quickly and easily.
Want to receive the most relevant news about the war and events in Ukraine - subscribe to our Telegram channel !