Horoscopes
Fabulous luck or only problems? Horoscope for 2024 for all zodiac signs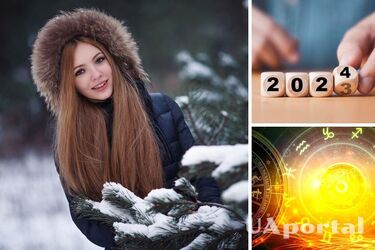 There is not much time left until the coming of the next year, so astrologers have already compiled a horoscope for all signs of the zodiac. Star experts say that there will be a lot of changes, but new opportunities will also please many. Read on for more details!
Aries (March 21 - April 20)
People born under this sign will start 2024 by traveling. Aries will also rethink their long-term goals and start paying attention to interpersonal relationships, which will settle conflicts.
Taurus (April 21-May 20)
This earth sign will experience personal growth in 2024, especially on a spiritual level. Jupiter will bring abundance and energy for new projects, but you will have to accept changes smoothly so that you don't get anxious about leaving your comfort zone.
Gemini (May 21 - June 21)
The year 2024 for Gemini will begin with Mercury retrograde in Sagittarius. This has a direct impact on how they will relate to those close to them and how they will perceive all the experiences ahead of them. They will feel more thoughtful and creative and will be able to achieve their goals with more perseverance.
Cancer (June 22 - July 22)
Cancer's intuition will be particularly strong in 2024. Fate will give them a chance to realize their deepest desires. The year 2023 was not easy for these people, but the next year will bring clarity and self-love.
Leo (July 23-August 22)
A year full of creativity and success awaits Leo. But they must learn to listen to others and cooperate to achieve group goals. This is the only way they can achieve healthy leadership and success.
Virgo (August 23 - September 22)
Virgo will welcome 2024 with the Moon in its astrological house. This means that natives of the sign will be more sensitive than usual and will be able to make new interpersonal connections. Significant positive changes await this sign at work.
Libra (September 23 - October 22)
Libra's ruler Venus will pass through the sign of Sagittarius, which will certainly fill them with creativity and drive. Natives of the sign will have travel experiences and socialize with people completely different from them.
Scorpio (Oct. 23-Nov. 21)
The ruler of this sign, Pluto, will pass through Capricorn. This means that 2024 will bring Scorpios a lot of change. The ability to transform will allow natives of the sign to adapt, but the road will be difficult.
Sagittarius (November 22 - December 21)
Adventurers will have a lot of traveling ahead of them. Jupiter, which will pass through the sign of Taurus, will make Sagittarians think about serious projects for the new year. They should think things through carefully before acting, and above all, plan ahead for the changes that will take place.
Capricorn (December 22 - January 20).
The year 2024 begins with birthday celebrations for many Capricorns. People of this sign have great power and are capable of achieving great goals. But the passage of the ruling planet Saturn through Pisces will make them very sensitive and vulnerable.
Aquarius (January 21 - February 22)
Aquarians will find a deep connection with nature. They have the strength to fight for collective causes, and next year will be no exception. Transformation goes hand in hand with perseverance, and Aquarians will clearly understand what they want out of life.
Pisces (February 20 - March 20)
The last sign of the zodiac wheel will start 2024 with some confusion in relationships. In the first few months, it will be difficult for these people to communicate, as they will try to prioritize their personal needs (which they are not used to). But they will be able to gain the necessary strength to achieve their goals in the new year.
As UAportal previously reported, earlier astrologers named the colors of clothing that will attract good luck in life.
Also among all the natives of the zodiacal circle there are two with a tough character - they easily accept challenges and achieve what others can only dream of.