Horoscopes
Happiness will break into the lives of three zodiac signs: horoscope for the weekend of June 17-18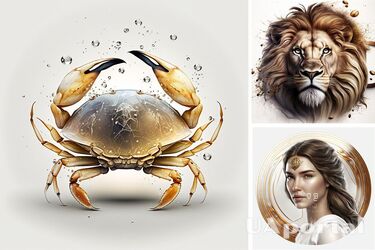 UAportal has prepared horoscopes for Cancer, Leo, and Virgo for the weekend of June 17-18, dedicated to the theme of happiness. Find out how celestial harmonies and astrological influences can contribute to their happy and joyful mood at this time.
Cancer.
For Cancer, happiness comes to the fore this weekend. The planetary position of Jupiter in Cancer shines a bright light on your path, filling your days with joy and pleasure. The universe has joined forces to give you moments of pure bliss. Take advantage of this favorable period and allow yourself to bask in the rays of happiness that surround you.
Engage in activities that bring you great pleasure, whether it's spending quality time with loved ones or a hobby that lights up your soul. Remember to cherish these moments and let them fuel your happiness in the days ahead.
Leo.
Leo, your happiness knows no bounds this weekend. With Saturn in Leo, the universe gives you a deep sense of satisfaction and joy. Your passion for life radiates, attracting positive energies and experiences. You'll be surrounded by loved ones who lift your spirits and create a harmonious atmosphere.
Also read: Travel and adventure await three zodiac signs this summer
Use this time to celebrate your accomplishments and honor the blessings in your life. Engage in activities that will spark your creativity and bring you great joy. Allow your happiness to inspire others and spread positivity wherever you go.
Virgo.
Virgos, this weekend will bring you a deep sense of happiness and satisfaction. With Uranus in Virgo, the universe will change the situation in your favor, giving you the joy you deserve. You will experience a deep sense of satisfaction in various aspects of your life. Whether it's career success, significant relationships, or personal growth, the universe will support your endeavors.
Take advantage of this period of happiness by taking time for self-care and reflection. Listen to your inner voice and trust the path that opens up before you. This weekend promises unforgettable moments that will bring pleasure and inspiration.
As UAportal reported earlier, astrologers have named the two most evil zodiac signs that are capable of terrible revenge.
If you want to get the latest news about the war and events in Ukraine, subscribe to our Telegram channel!