Showbiz
Red Hot Chili Peppers: not all fans know these facts about the band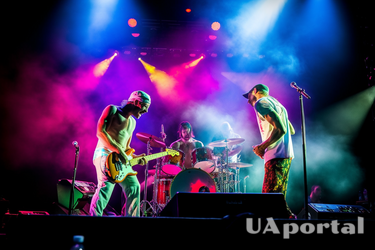 UAportal has prepared an article that discusses five interesting and little-known facts about the cult American rock band Red Hot Chili Peppers, formed in Los Angeles in 1983. Having sold over 80 million records worldwide, they are one of the best-selling bands of all time.
Fact 1
The Red Hot Chili Peppers once performed at a concert in just socks. It happened during a performance in 1983 at the legendary Kit Kat Club in New York. The band was known for their wild antics, and this performance cemented their reputation as one of the most unpredictable and daring bands in rock history.
Read also: Three Oscars, innovations, and social issues: What Importance Tom Cruise Gave to Cinema
Fact 2.
John Frusciante, the band's former guitarist, left the band twice. The first time was in 1992, after the release of the band's breakthrough album Blood Sugar Sex Magik. He cited overwork and a desire to pursue a solo career as reasons for his departure.
He returned to the band in 1998 but left again in 2009. Frusciante's tumultuous relationship with the Red Hot Chili Peppers has been the subject of much speculation and discussion among fans.
Fact 3.
The Red Hot Chili Peppers' song "Give It Away" was inspired by a phrase that vocalist Anthony Kiedis heard at a party. The phrase "Give it away, give it away, give it away, give it away now" was repeated by one of Kidis' friends, and it stuck with him. The song became one of the band's biggest hits and won the Grammy Award for Best Hard Rock Performance with Vocals in 1992.
Read also: How Leonardo DiCaprio changed the cinema
Fact 4.
Bassist Flea is not only a skilled musician but also a talented actor. He has appeared in more than 20 films and TV shows, including The Big Lebowski and Back to the Future, Part II. Bloch's acting career is a testament to his versatility and creative energy.
Fact 5
The Red Hot Chili Peppers have been inducted into the Rock and Roll Hall of Fame twice. The first time was in 2012, and the second in 2019. They are one of the few bands to receive this honor twice, and it shows their inevitable influence and impact on the music world.
Earlier, UAportal prepared an article about the rise of Robert John Downey Jr. in show business.
If you want to receive the most up-to-date news about the war and events in Ukraine, subscribe to our telegram channel!