Showbiz
Revealing the genius of Quentin Tarantino: how the director conquered the world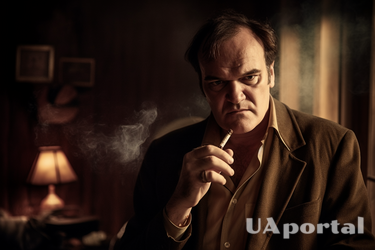 UAportal has prepared five interesting facts about Quentin Tarantino. Known for his unique and often controversial style of filmmaking, Tarantino is considered one of the most prominent directors of his generation.
A brief biography of Quentin Tarantino
Quentin Jerome Tarantino was born on March 27, 1963, in Knoxville, Tennessee. He grew up in Los Angeles and dropped out of high school to pursue a career in acting. Tarantino's first job in the film industry was working at a video rental store, where he learned about filmmaking and developed his passion for the art form. He made his directorial debut in 1992 with the critically acclaimed film "Reservoir Dogs", which launched his career as a filmmaker.
Read also: Three Oscars, innovations and social issues: What Importance Tom Cruise has given to Cinema
Tarantino is an avid reader
Besides being a movie lover, Tarantino is also an avid reader. He has cited various novels and books as inspiration for his films, including Raymond Chandler's The Big Sleep, Sergio Leone's The Good, the Bad, and the Ugly, and Elmore Leonard's Rum Punch. Tarantino has also stated that he reads scripts every day as it helps him stay witty and focused on his craft.
Tarantino writes all his scripts by hand
Unlike many other filmmakers who use computers to write scripts, Tarantino writes all of his scripts by hand. He said that this process helps him get into the character's head and allows him to write more organically. In an interview with the New York Times, Tarantino said: "When I write, it's me and the paper, and I can write the way I like."
Read also: How Leonardo DiCaprio changed cinema
Tarantino's films are often non-linear in nature
One of Tarantino's signature styles is his non-linear approach to storytelling. Many of his films, including Pulp Fiction and Kill Bill, have multiple storylines and jump back and forth in time. According to Tarantino, this approach allows him to keep the audience in suspense and guessing what will happen next.
Tarantino has a foot fetish
Many of Tarantino's films feature footage, leading some to speculate that he has a foot fetish. In an interview with Rolling Stone, Tarantino confirmed that he does have a foot fetish, saying: "I don't know how to explain it, but as a director, it just means I know what they look like." He also said that he thinks Uma Thurman's feet are among the most beautiful he has ever seen.
Tarantino announces his retirement from cinema
In an interview with GQ Australia in 2019, Tarantino announced that he plans to retire from filmmaking after his tenth movie. He said he wanted to end his career on a high note and focus on writing books and plays. Tarantino has directed nine films, including Once Upon a Time in Hollywood and Django Unchained, and many fans are looking forward to seeing what he has in store for his latest project.
Earlier, UAportal prepared an article about the rise of Robert John Downey Jr. in show business.
If you want to get the latest news about the war and events in Ukraine, subscribe to our Telegram channel!