Society
Wired and wireless charging: which is more efficient and convenient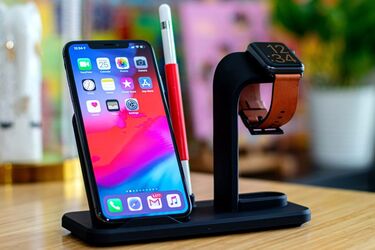 In a fast-paced world where time is of the essence, the speed and efficiency of charging methods play a significant role. UAportal has prepared a comparison of wireless and wired charging to determine which method is best for your needs.
Flexibility and convenience
Wireless charging has gained popularity as a convenient and hassle-free way to charge devices. Unlike traditional wired charging, wireless charging allows you to place your devices on a charging pad without the need for a cable, providing flexibility and convenience.
Speed and efficiency
One of the advantages of wired charging is its speed and efficiency. Devices charge faster with a wired connection, allowing for quicker power-ups. In contrast, wireless charging tends to be slower and less efficient because it uses electromagnetic induction to transfer energy.
Read also: Pros and cons of the iPhone: is it worth the money?
Convenience
Convenience is a significant advantage of wireless charging. Users don't have to deal with tangled cables or the hassle of connecting and disconnecting devices. Wireless charging provides a seamless and intuitive charging experience, requiring only that devices be placed on the charging cradle.
Portability
Portability is an important aspect to consider when comparing wireless and wired charging. Wireless charging pads are compact and can be easily carried around, allowing you to charge your devices on the go. On the other hand, wired charging requires access to electrical outlets and compatible charging cables, which limits flexibility and portability.
Earlier, we wrote about how a phone's battery can drain quickly due to one common mistake users make. This leads to wear and tear on the components of your gadget.
If you want to get the latest news about the war and events in Ukraine, subscribe to our Telegram channel!