Horoscopes
Three zodiac signs will be able to help others and connect: Horoscope for 21-22 October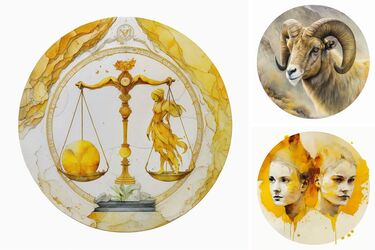 UAportal has prepared a horoscope for Libra, Aries and Gemini for the weekend of October 21-22. These predictions shed light on how sensitivity, empathy and healing manifest in the lives of the three signs.
Libra
Libra may find that they rely on their sensitivity and empathy while dealing with others. Libra should take this opportunity to offer support and comfort to those who are in need. You should show your compassionate nature and let it shine through.
Libra can expect positive results in relationships and social interactions. Their ability to listen and understand others will make it easy to have difficult conversations. This is a great time to mend any strained relationships and find common ground.
Aries
The horoscope implies opportunities for personal growth and introspection for Aries. This is a good time to focus on your needs and desires. You should find a moment to evaluate your goals and make the necessary adjustments. You may feel the need to step away from certain situations and evaluate the impact on their overall well-being.
Read also: the "Age of Villains" will bring great success to three zodiac signs: their lives will turn around
It's a good period to prioritize taking care of yourself for Aries. They should pay attention to any subtle signs that the body may present, and take the necessary steps to address them. Activities that bring joy and relaxation will help rejuvenate the spirit.
Gemini
The horoscope offers Gemini a chance to reach out to others. They have a natural ability to make a positive impact on people's lives, so it is advisable to take advantage of this opportunity. Communication skills and quick thinking will enable them to provide sound advice and support.
Gemini's versatility and adaptability will be evident as they tackle different tasks and problems. You should be open to the needs of others and offer your help where it is needed.
As UAportal previously reported, earlier astrologers named the two most evil signs of the zodiac, which are capable of terrible revenge.
Want to receive the most up-to-date news about the war and events in Ukraine - subscribe to our Telegram channel!