Horoscopes
Secrets will be revealed to these three signs: June 27 horoscope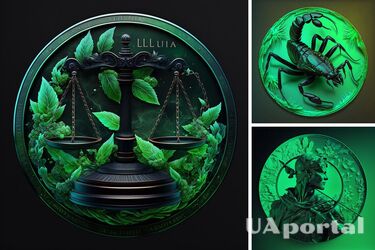 UAportal has prepared a horoscope for June 27 for Libra, Scorpio and Sagittarius. Find out what the heavenly bodies will say about the journey of each of the three zodiac signs on this eventful day.
Libra.
Libra, the cosmic energies hint that the day will be filled with harmony and balance. This is the time to use your natural charm and diplomatic skills. Trust your intuition when making decisions and seek cooperation in dealing with others. Take advantage of opportunities that come your way and let your creativity flourish.
When it comes to moments of relaxation, Libra, the universe is calling for you to create a space for peace. Spend some time doing things that calm your mind, such as meditating, reading a book or taking a peaceful walk in nature. Remember to pay attention to self-care and maintain your inner balance. Finding moments of calm will help you replenish your energy and increase your ability to cope with any challenges.
Scorpio.
Scorpio, the cosmic placement indicates a day of strong emotions and profound transformations. Dive deep into your inner world and trust your instincts. Your natural intuition will tell you the right choice and reveal hidden truths. Embrace the secrets that are revealed as they hold the keys to personal growth and self-discovery. Allow your emotions to flow freely and don't be afraid to express your deepest desires and aspirations.
Read also: Horoscope for July: what three zodiac signs the stars have in store for inspiration
Scorpio, the universe offers a surge of creative inspiration. Let your imagination run wild and explore new artistic endeavors. Engage in activities that ignite your passion and bring out your unique talents. It's a good time to express yourself through various creative outlets, whether it's writing, painting, or dancing.
Sagittarius.
Sagittarius, celestial energies combine to give you a day of adventure, growth and expansion. Take advantage of opportunities for personal and intellectual exploration. Seek out new experiences that will broaden your horizons and make you think about your future. Be open to learning about different cultures, beliefs and philosophies. This is the day to follow your curiosity and take bold steps towards self-discovery and spiritual enlightenment.
When it comes to the opportunity to help others, Sagittarius, the universe is calling you to reach out to those in need. Your compassionate nature can make a big difference in another person's life. Whether it's offering to listen to you, volunteering for a cause you care about, or lending a helping hand, your acts of kindness will have far-reaching consequences.
As UAportal reported earlier, astrologers have named the two most evil zodiac signs that are capable of terrible revenge.
If you want to get the latest news about the war and events in Ukraine, subscribe to our Telegram channel!