Society
Dyson hair dryer review: main advantages and disadvantages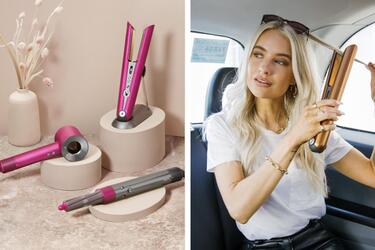 Discover the surprising advantages and disadvantages of the Dyson hair dryer. Find out how this innovative device can transform your hair care routine.
Benefits of the Dyson hair dryer
1. The Dyson hair dryer reduces drying time with powerful airflow and adjustable heat settings, making it faster than traditional hair dryers.
2. The Dyson hair dryer protects against excessive heat by continuously measuring air temperature 20 times per second. This ensures a safe level of heat, reducing the risk of heat-induced damage such as curly and brittle hair.
Read also: 5 tips to nourish your scalp in the fall if your hair has started actively falling out
3- The Dyson hair dryer's intelligent temperature control system helps to maintain healthy hair by minimizing damage. The result is smoother, shinier and more vibrant hair.
Dyson hair dryer disadvantages
1. The high price of Dyson hair dryer can be a disadvantage for some people because of its advanced technology and premium quality compared to other hair dryers in the market.
2. Access to the Dyson hair dryer may be limited to certain retail stores or online platforms, which may cause inconvenience to some consumers.
3. Users report a higher noise level of the Dyson hair dryer compared to other models. While this may not bother everyone, it could be a drawback for those who prefer a quieter drying experience.
Recall, we have already written about how to dry your hair properly.
Want to receive the most relevant news about the war and events in Ukraine - subscribe to our Telegram channel !