Lifehacks
Non-traditional uses for mustard: what you'll need it for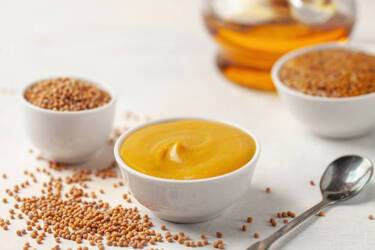 Adding spicy mustard to dishes is a well-known culinary practice, especially when combined with various meat dishes. However, the versatility of this spice goes beyond the kitchen, giving great utility in the home. UAportal will tell you how to use mustard in unconventional ways.
Housewives often refuse household chemicals, using mustard to wash dishes. The properties of mustard help to easily clean dirt.
Read also: Five unusual ways of using vinegar in the home: useful flyhacks
Helps to improve the condition of hair
Using the cleansing properties, mustard can replace the usual shampoo. Mix 2-3 spoons of mustard powder with water to a mashed consistency and rub it into the roots of your hair. It is believed that this unconventional mustard shampoo can accelerate hair growth.
Not all stains can be easily taken out with the help of a washing machine. However, mustard can deal with it. Pre-soak the soiled clothes in water with mustard for just 20 minutes, this will help to get the stains out. After that, wash things in the washing machine in the usual way.
While many people are aware of the warming properties of mustard, which is commonly used to combat cold symptoms, a lesser known application is soothing foot baths. Just 20 minutes of relaxation can provide some much needed respite. Don't forget to wear wool socks afterward for extra warmth.
Recall, we told you about an effective way to clean upholstered furniture with the help of shaving foam.
Want to receive the most relevant news about the war and events in Ukraine - subscribe to our Telegram channel !