Horoscopes
Unexpected events and disturbing news: Horoscope for 27 June for three zodiac signs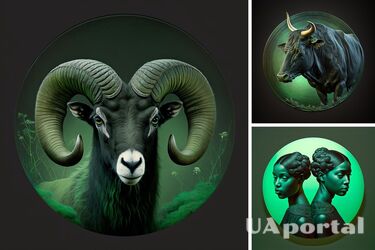 UAportal has prepared personalised horoscope forecasts for 27 June for Aries, Taurus, and Gemini. Get the most out of this day.
Aries
Aries, cosmic energies urge you to show your creative side and indulge in artistic expression. This is a good time to engage in activities that ignite your passion and allow your imagination to flourish. Explore new mediums, experiment with different forms of expression and let your creative instincts guide you. By tapping into your artistic potential, you can discover new talents and find joy in the process.
Aries, the spotlight turns to your professional life. The celestial alignment suggests that career-related issues may require your intervention. Take time to evaluate your goals and analyse your progress. This is the perfect time to make strategic decisions, network with influential people, and showcase your skills. Your determination and enthusiasm will help you overcome any challenges and pave the way for success.
Taurus
Taurus, the cosmos invites you to focus on cultivating inner harmony and emotional well-being. Take time for self-care that will bring you peace and tranquillity. Engage in practices that promote relaxation, such as meditation, yoga, or outdoor recreation. By prioritising your emotional well-being, you can improve your overall quality of life and strengthen your bonds with your loved ones.
Read also: July horoscope: what three zodiac signs the stars have in store for inspiration
However, Taurus, remember that unexpected problems or disturbing news may come your way. Remember to remain calm and steady in the face of adversity. Believe that you have the inner strength to overcome any obstacles. Seek support from trusted friends or family members who can provide valuable guidance and perspective. Embrace resilience and see difficulties as opportunities for growth and learning.
Gemini
Gemini, your planetary placement highlights your natural versatility and intellectual curiosity. Take advantage of the diverse interests and ideas that capture your attention. Engage in stimulating conversations, explore new topics and expand your knowledge. This is a good time to learn, teach and share your unique knowledge with others.
Hold the potential for positive change in your hands, Gemini. The universe is calling you to seize new opportunities and make the most of this day. Trust your instincts and take bold steps towards your goals and aspirations. Whether it's starting a new project, strengthening a relationship, or personal growth, the cosmic energies will be in your favour. Take advantage of the opportunities that open up before you and let your innate curiosity guide you to exciting transformations.
As reported by UAportal, earlier astrologers named the two most evil zodiac signs that are capable of terrible revenge.
If you want to receive the latest news about the war and events in Ukraine, subscribe to our Telegram channel!