Society
Eyelash extensions: advantages and disadvantages of the procedure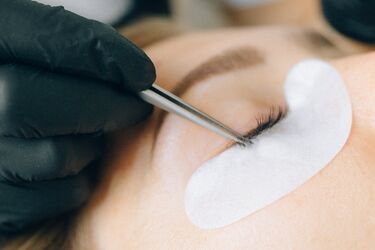 Eyelash extensions instantly emphasize your natural beauty by adding length, volume and density to your eyelashes, but there are some risks. UAportal tells you whether you should really do this procedure.
Benefits of the procedure
Extended eyelashes aesthetically improve the look, giving expressiveness. Eyes look more attractive due to long and thick eyelashes.
One of the main benefits of false eyelashes is the elimination of daily mascara application. Time for daily makeup is saved, because the eyes and without mascara will look spectacular.
Increased self-confidence
Extended eyelashes boost self-esteem and make you feel more attractive.
Read also: How to make eyelashes thicker and healthier: useful tips that every girl should know
Disadvantages of the procedure
Some people may be allergic to the glue used in eyelash extensions. This can lead to redness, itching and even infection.
Risk of damage to natural lashes
Improper application or removal of extensions can cause damage to natural lashes. Clumping of the extensions can cause damage and loss of the eyelashes.
High cost and maintenance
Extensions can be expensive and require regular touch-ups to maintain the look. In addition, oil-based products, excessive friction, and exposure to steam or water should be avoided for longer-lasting effects.
Recall, earlier we told you how to choose the perfect perfume.
Want to receive the most relevant news about the war and events in Ukraine - subscribe to our Telegram channel!