Horoscopes
Moments of relaxation and love await the three zodiac signs: Horoscope for 20 October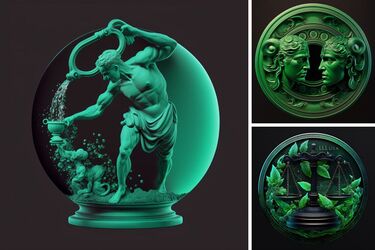 UAportal has prepared horoscopes for Aquarius, Gemini and Libra for October 20. Find out what awaits these signs ahead and what opportunities will open before them.
Aquarius
Aquarians may feel empathy, emotional connection and openness to deeper relationships with others. This is a day to tap into your natural empathy and show kindness to others. You should trust your instincts and follow your heart.
In the realm of love, Aquarians are likely to feel a warm and loving energy surrounding them. This is an ideal time to strengthen emotional ties with their partner or potential love interests.
Gemini
Gemini can expect an influx of a positive energy and good fortune coming their way. This is a great time for socializing and intellectual pursuits. Your wit and sharp mind will shine through, allowing you to charm others with your words.
Read also: Three zodiac signs will strengthen the connection with relatives: Horoscope for the end of October
For Gemini, there is an opportunity to reconnect with old friends. It is recommended to reach out to those with whom they have not communicated for a long time, and maintain the ties that used to bring joy.
Libra
Libra is advised to find moments of relaxation and peacefulness amidst the chaos of everyday life. You should make time for a self-care, give yourself over to activities that bring you positive vibes, and create a peaceful environment around you.
It is recommended to engage in activities that promote calm and carefree behavior, such as mindfulness or spending time in nature. It is necessary to restore the inner balance and rejuvenate the spirit.
As UAportal previously reported, earlier astrologers named the two most evil signs of the zodiac, which are capable of terrible revenge.
Want to receive the most up-to-date news about the war and events in Ukraine - subscribe to our Telegram channel!