Lifehacks
How to get rid of dried blood stains on clothes: effective tips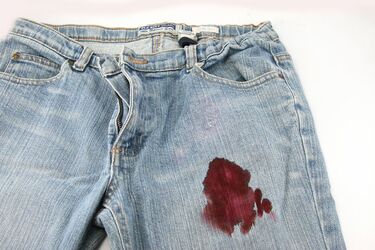 UAportal tells you about unusual but effective ways to remove dried blood stains from clothes. These tips will help you return your clothes to their proper appearance.
Sea salt solution for quick stain removal
An effective method for removing dried blood stains from clothes is to create a solution of sea salt. Mix one tablespoon of sea salt with two cups of cold water until it dissolves.
Soak the stained area in this solution for about 20 minutes to allow the salt to break down the stain particles. Rinse the item with cold water to complete the process.
Read also: How to remove sweat odor from clothes: interesting tips
Aspirin paste for stubborn stains
Another highly effective life hack for removing dried blood stains is the use of aspirin paste. Crush two aspirin tablets into powder and mix it with a teaspoon of warm water to make a paste.
Apply the paste to the stained area, ensuring complete coverage. Leave on for about 15 minutes and then rinse off with cold water.
Hydrogen peroxide for deep cleaning
Hydrogen peroxide is also a great option to get rid of dried blood stains on clothes. Start by applying hydrogen peroxide to the stain and leave it on for a few minutes to absorb. Gently blot the area with a clean cloth or sponge to remove the stain from the fabric.
Rinse the item in cold water and check to see if the stain is completely removed. Remember to test a small, inconspicuous area of the fabric before applying hydrogen peroxide to the stain to avoid any unwanted reactions.
We've already told you how to properly wash your collar and cuffs to keep them looking their best.
If you want to get the latest news about the war and events in Ukraine, subscribe to our Telegram channel!