Lifehacks
How to wash your hair without shampoo: uncommon lifehacks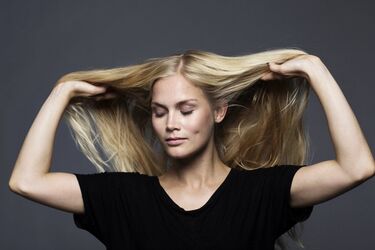 UAportal has prepared unusual ways of washing your head. You can use folk remedies if you do not have shampoo at hand.
Conditioner with apple cider vinegar
Mix equal parts of apple cider vinegar and water, apply the mixture to your hair and massage it into your scalp. After leaving it for a few minutes, rinse it off to get clean and shiny hair.
Read also: 5 tips to nourish your scalp in the fall if your hair has started to actively fall out
Analternative to dry shampoo is baby powder
Another unconventional tip to wash your hair when you don't have shampoo is to use baby powder. Apply a small amount of baby powder to your roots and gently rub it into your scalp. The powder will effectively absorb excess grease.
Hair rinse for hair, made with your own hands - tea infusion
If you are looking for a natural and refreshing way to wash your hair, try making a tea infusion. Prepare a strong cup of herbal tea, such as chamomile or mint, and let it cool.
Strain the cooled tea and use it as a rinse after washing your hair. Massage it into your hair, leave it on for a few minutes and then rinse it off, so that your hair becomes lively and smells nice.
Recall, we have already written how to dry hair correctly.
Want to receive the most relevant news about the war and events in Ukraine - subscribe to our Telegram channel !