Horoscopes
They will be envied by everyone around! Favorites of luck named for whom the year 2024 will be a "fairy tale"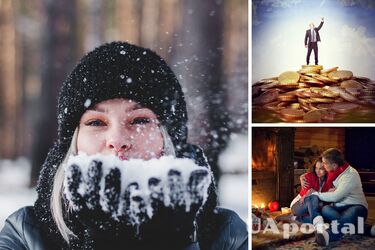 In 2024, some zodiac signs are destined to shine brighter than others. Four lucky ones will succeed in everything: they can get rich, travel a lot, fulfill their old dreams, and find true love. According to astrologers, these are Sagittarius, Leo, Libra, and Taurus.
Sagittarius
For Sagittarius, 2024 will be filled with prosperity and good luck. The optimistic and enterprising nature of the natives of the sign will push them to conquer great heights, and the desire to explore new horizons will lead to many serendipitous encounters. Sagittarius will have access to valuable connections and resources, increasing their income significantly. Singles will also have a chance to meet a soulmate.
Leo
At the beginning of the new year, Leos will have a path to success and self-realization. The confidence and determination of the natives of the sign will help them seize the opportunities that come their way. The stars predict a career breakthrough and solid income for Leos. Romance and passion will also be in the air, and natives of this sign may even get married.
Libra
For Libras, 2024 will be full of favorable opportunities and successful meetings, and they will be able to navigate different situations with ease and dexterity. In addition, natives of the sign will experience a true sense of love and find the happiness they have long dreamed of. Thanks to their innate charm, diplomacy, and unwavering self-control, Libras will achieve all their goals.
Taurus
Thanks to their determination and practicality, Taurus will make the most of their lucky streak in 2024. In the field of career and finance, they will experience steady growth - new doors will open that will allow them to showcase their skills and talents. Moreover, in matters of love and relationships, Taurus will not have any difficulties. They will also be able to lead a healthy lifestyle, start exercising regularly, and take care of themselves.
As UAportal reported earlier, astrologers have named the colors of clothes that will attract good luck.
Also, among all the natives of the zodiac circle, there are two that have a tough character - they easily accept challenges and achieve what others can only dream of.