Horoscopes
Great luck, money and love await them! The main lucky people of 2024 have been named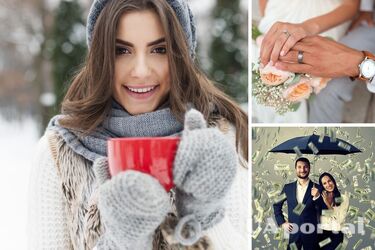 Representatives of six zodiac signs will be luckier than others in 2024 - luck will not leave them for a moment, and their cherished dreams may come true. According to astrologers, the "white streak" awaits Sagittarius, Lions, Libra, Taurus, Gemini and Pisces.
Sagittarius
This year will be a time of success and abundance, there will be many fateful meetings that will bring happiness and prosperity. Ahead are many part-time jobs that will be needed for a carefree tomorrow. The main thing is not to lose optimism, because it also means a positive outlook on troubles.
Stability in work and finances will instill confidence in a wonderful future, so Sagittarians can create their own business. This will be the right decision, which will bring significant income and the opportunity to travel. Representatives of this sign have every chance to meet the love of their life. The year 2024 will turn out to be a period of wonderful opportunities.
Leo
Those who were born under this sign are waiting for fabulous luck and success, which will help them realize all their cherished dreams and achieve their goals. It will be possible to reach a new level of income. Finally there will be an opportunity to go on a dream trip, during which Lions are waiting for adventure and many unforgettable moments.
Leo will be able to solve their health problems that have been bothering them constantly - it could be an operation or a course of procedures. Luck will accompany them throughout the year, making 2024 a truly extraordinary time for this royal sign of the zodiac.
Taurus
The greatest happiness for the representatives of this zodiac sign is to be confident in the future, and in 2024 they will not have to experience financial difficulties. A well-paid job offer is expected, which will bring a significant income. Taurus will be able to save a considerable amount for a trouble-free future.
Everything will work out in love life as well. There will be an opportunity to meet true love, as well as get rid of family problems. From the relationship of spouses will disappear disputes and misunderstandings, and reign complete harmony. Representatives of this sign will start exercising, as well as monitor their diet, which will have a beneficial effect on their physical and mental state. They will believe in themselves and their abilities, so they will be able to easily conquer the peaks in both work and study.
Gemini
Representatives of this sign are waiting for tremendous achievements in the career field - getting a leadership position, opening your own business or getting an interesting offer in connection with a change of profession.
Perhaps the changes will affect the personal life - there is a chance to meet your soul mate (on a trip or on a walk, for example, a quiet Sunday evening). Such changes will affect single Gemini. But even those who are already in a relationship will be pleasantly surprised by what is happening in the family. In 2024, Gemini will only have to surprise those around them with their good fortune.
Pisces
The main success of representatives of this zodiac sign is the transformation from a dreamer into a successful and purposeful person, which will favorably affect finances. Prosperity and wealth will simply "burst" into life. As to personal life, everything is good - Pisces will radiate irresistible charm, which will attract the opposite sex like a magnet.
Pisces will easily find a second half with whom they will decide to live together. By the way, this person will make the natives of the sign to think about their lifestyle - they will start to do sports and revise their diet. The year 2024 is a time of success and prosperity for this sensual sign.
As UAportal previously reported, earlier astrologers named the colors of clothing that will attract good luck in life.
Also, among all the natives of the zodiacal circle there are two with a tough character - they easily accept challenges and achieve what others can only dream of.